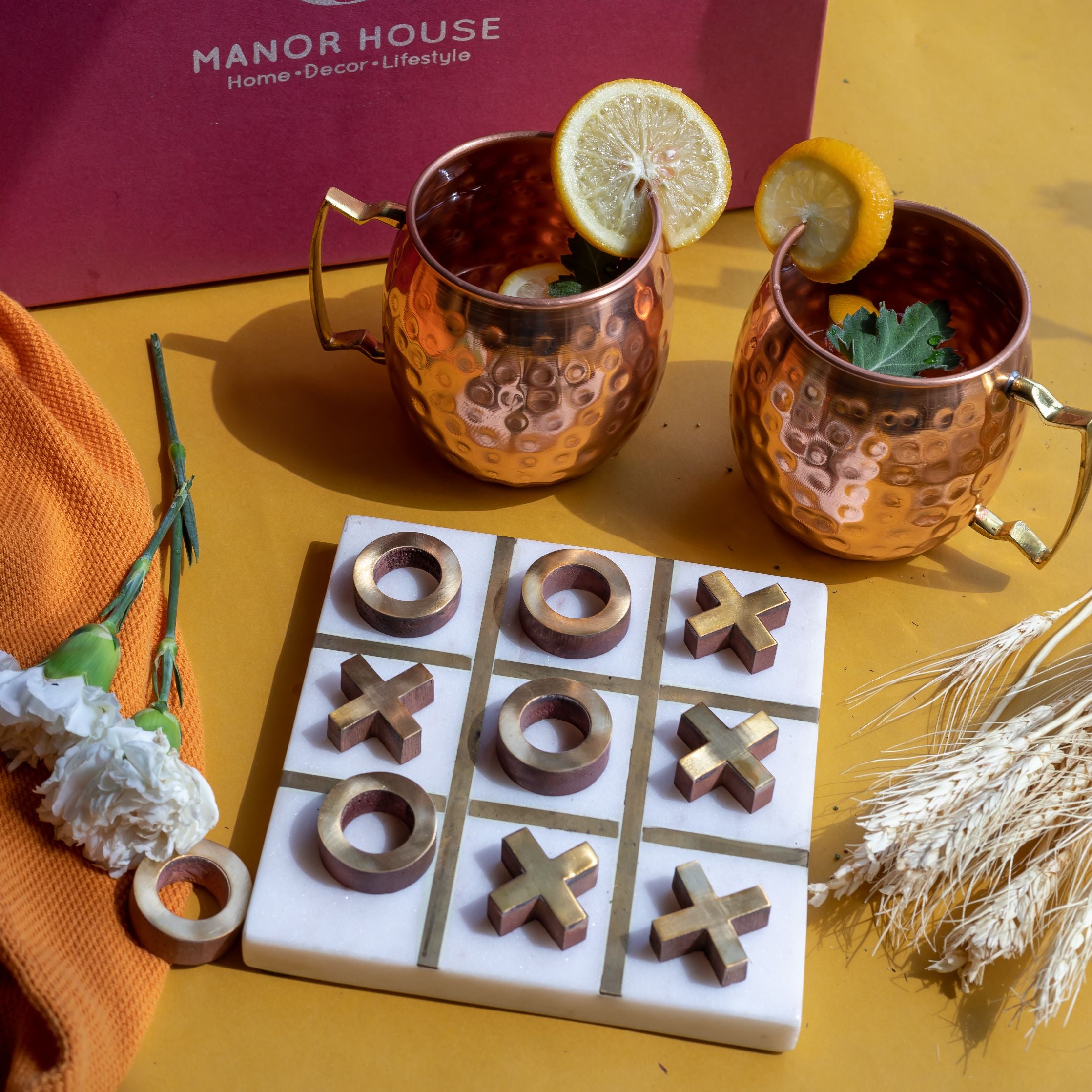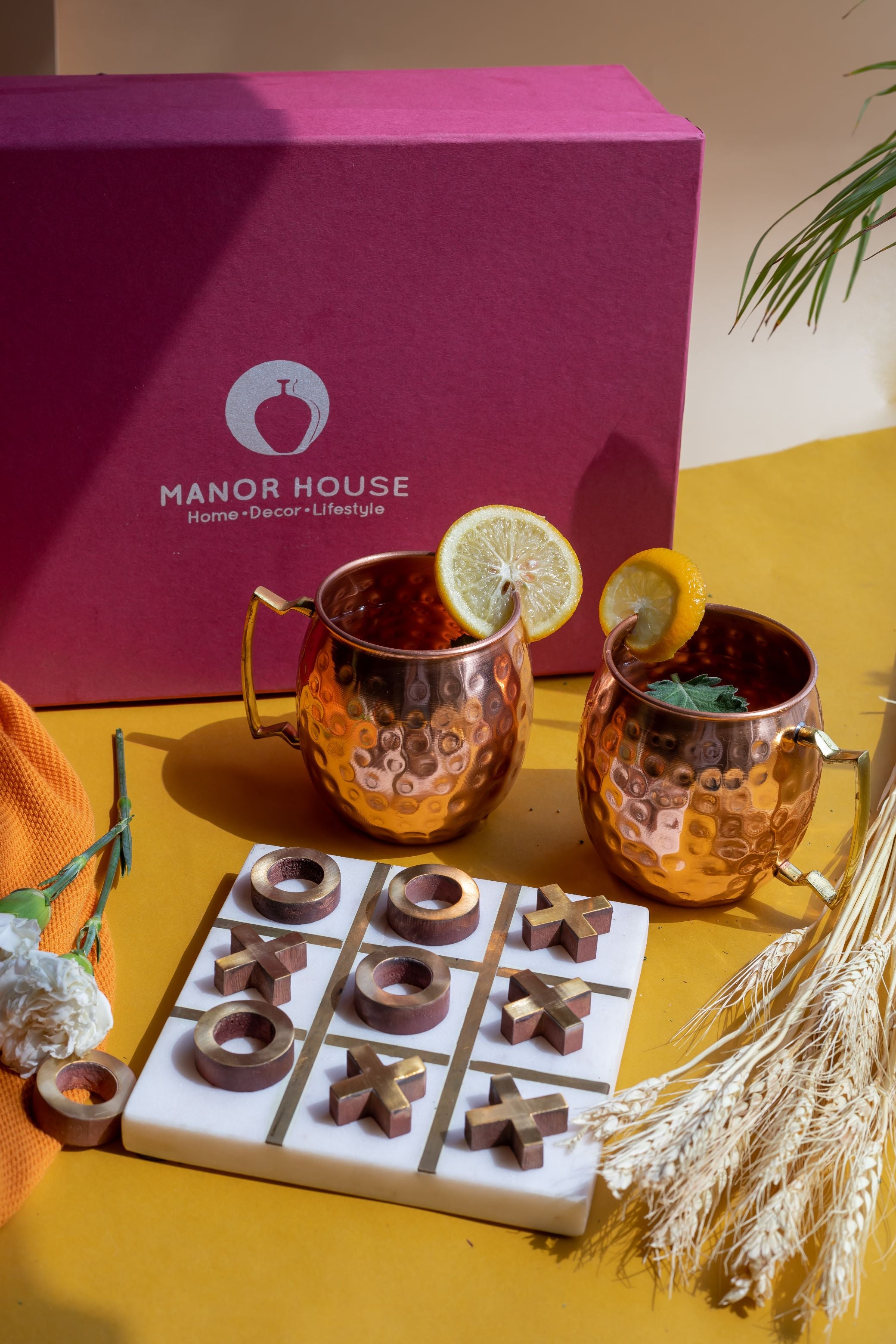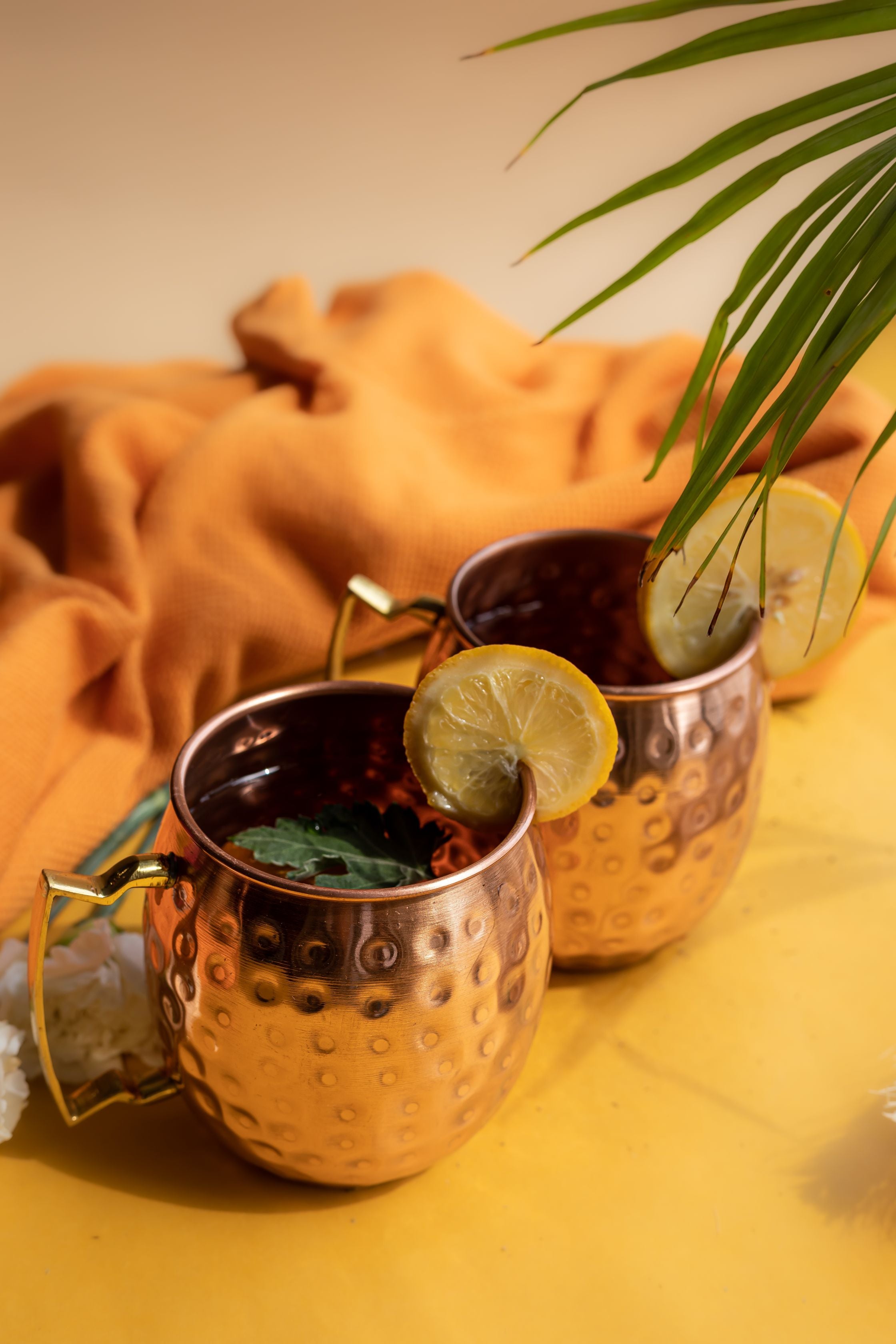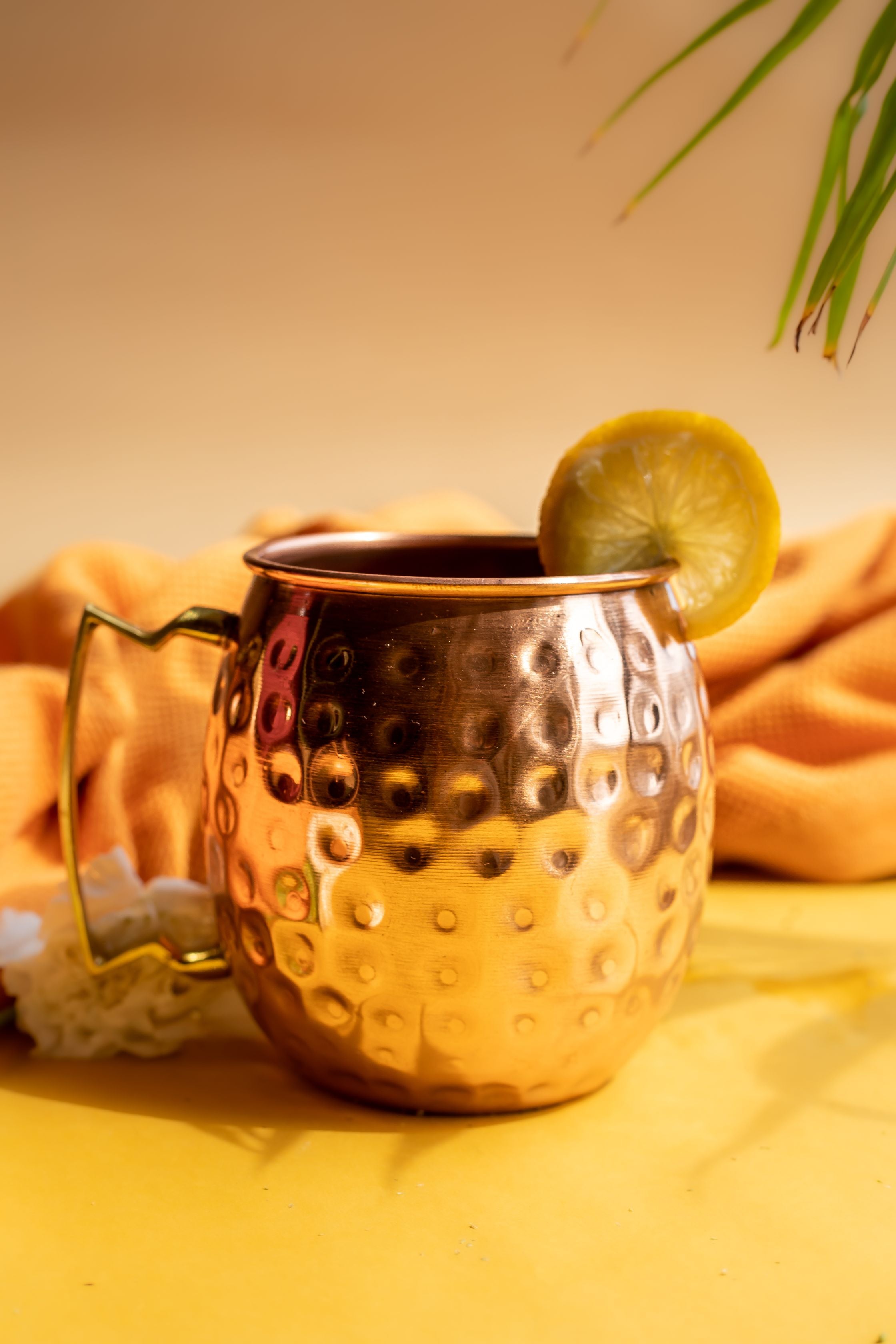 Game and Drink Gift Set
Sale price

Rs. 3,399
Regular price
(/)
---
"Presenting the ultimate blend of elegance and entertainment – our Luxe Game and Drink Gift Box. This exquisite collection combines the captivating Marble and Wood Tic Tac Toe Showpiece Game with the timeless charm of 2 Copper Mule Mugs, all thoughtfully presented in a distinguished gift box. It's a celebration of refined aesthetics, leisure, and camaraderie.
Marble and Wood Tic Tac Toe Showpiece Game:
Transform any setting into a realm of strategic delight with our Marble and Wood Tic Tac Toe Showpiece Game. Crafted to perfection, the luxurious marble board and the rich wooden base create a visual symphony that's both inviting and exquisite. Engage in lively matches with friends and family or showcase this masterpiece as a conversation-starting centerpiece. This game is not only an embodiment of skillful design but also an expression of your discerning taste.
Copper Mule Mugs:
Savor the classic charm of our Copper Mule Mugs, a testament to time-honored tradition and modern aesthetics. Handcrafted from pure copper, these mugs offer an unmatched drinking experience. The natural insulating properties of copper keep your beverages refreshingly cold, making them the perfect vessels for your favorite Moscow Mule or any cocktail of your choice. The meticulously designed handles provide both style and comfort, while the gleaming surface adds a touch of opulence to every sip.
Elegant Gift Box:
The Luxe Game and Drink Gift Box isn't just a gift – it's a statement. The elegant packaging ensures that each element of this ensemble arrives in pristine condition, ready to inspire moments of joy and connection. Whether it's a gesture of appreciation, a housewarming gift, or a celebratory offering, this gift box exudes sophistication and thoughtfulness, leaving an indelible impression on the recipient.
Experience the perfect blend of leisure and luxury with our Luxe Game and Drink Gift Box. From the engaging strategic battles on the tic tac toe board to the clinking of copper mugs in celebration, this ensemble embodies the essence of camaraderie and style. Elevate your gifting game and share the joy of impeccable design and companionship with those who matter most.
Material: Marble, Wood, Copper
Finish: Multicoloured"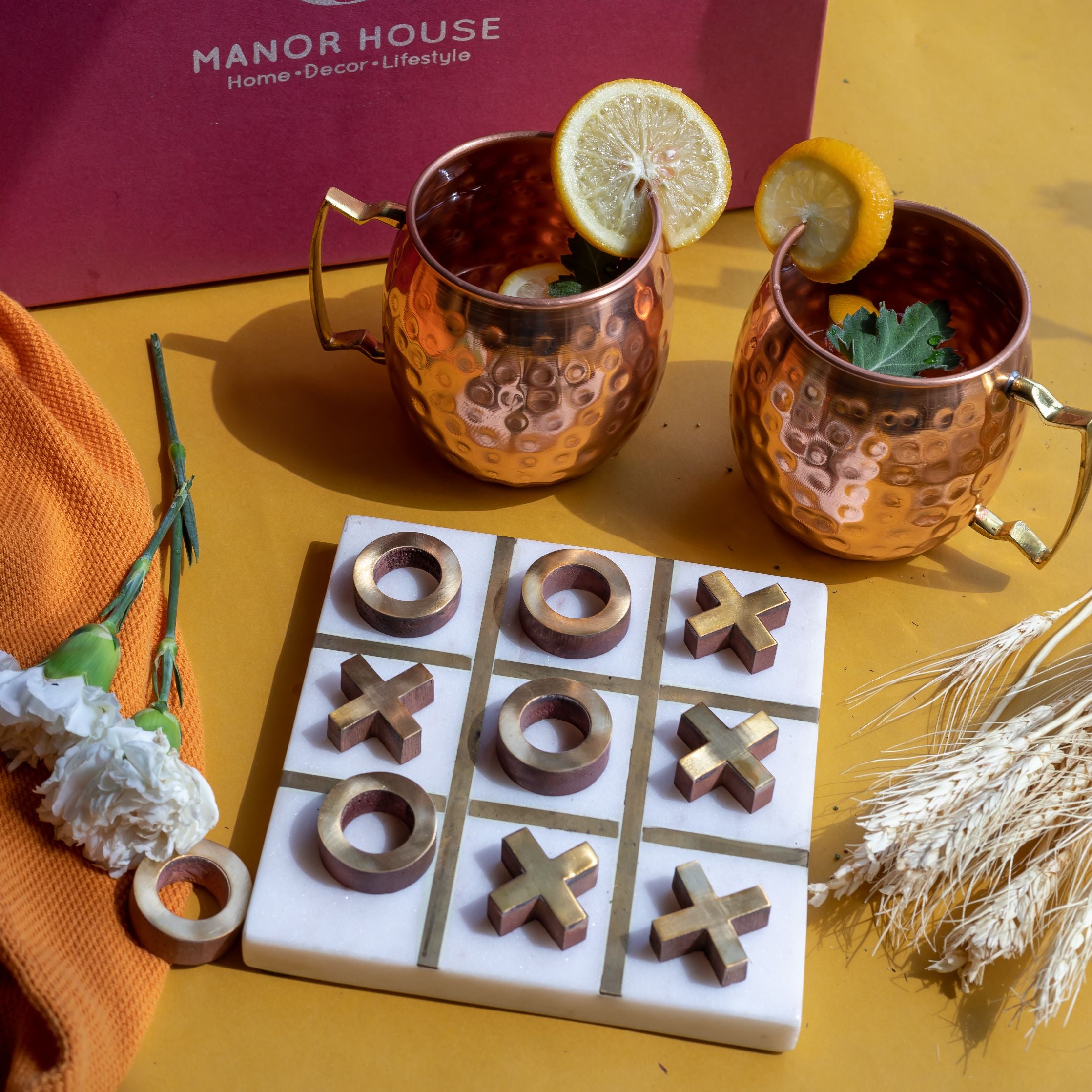 Game and Drink Gift Set
Sale price

Rs. 3,399
Regular price
Choose options